Progress, progress, progress…it seems to be the buzz word of the moment in education but the question always remains…how do we show progress? These are a few examples I have seen over my time in education. I will hold judgement on which I feel is most useful as what works for one will not always work for another but it might give you an idea to trial in your classroom come September.
Firstly – Web or tablet based techniques
Nearpod – This can be used with tablets. It's pretty easy and I have created a blog post about how to use it here https://mrseducate.com/2018/05/20/nearpod-differentiation-and-afl-in-the-digital-age/ This allows for PPTs to be converted and for quizzes to be added in.
Few things to note –
Also useful as means PPTs on screens on pupils.
Can be done on phone or ipads, both pupil and teacher needs electronic device.
Plicker – This allows an app to pick up pupils responses using printed sheets that they hold up certain ways. https://www.plickers.com/  .The app itself then collects the data for you and you can see who got what correct.
Few things to note –
Print off a class lot and assign numbers so you know who said what.
Best not to laminate, they can become reflective and harder to scan.
Can be done on phone or ipads, teacher only needs electronic device and pupils do not.
Kahoot – Those that use ipads are likely to know about Kahoot but a few things to note…
 Ghost mode: When you finish a game of Kahoot! … The ghosts play the game alongside live players, and their answers (and answer times) will be exactly the same as those the players entered in the previous game. ​Ghost mode is a great way to encourage learners to compete against themselves as well as each other and
to see if they progress. I use this for kahoots as a starter to a plenary…clear progression.
It can do your marking for you! Use the excel spreadsheets in your marking book and a quick assessment is all don for you!
Secondly – Ideas without Ipads of PCs
Self Assessment Boxes – These can easily give you an idea of problems within the class. Having used them they don't necessarily reflect what has been learnt but the attitude of learners. It can highlight those who aren't clear on their learning or who lack confidence. Then you can address this to aid progression. The way I used them was to record the different col
ours as blobs in my mark book. If I got a pattern of three yellows/reds I would intervene and compare to the work that had been done. This also coincided with a chat with the pupil to address any issues.
Exit Tickets – A quick and easy way to see if the LO has been met. Have the template set up near the door and then ask pupils to add a post-it to
address the learning objective. Again then make a quick colour blob in your mark book of those who have missed the point of the lesson. You can then intervene with extra work in DIRT time or for homework for those who need it.
Blob Tree – Very much like the boxes but a bit more fun for the lower year groups. Pupils pick the figure that reflects how they feel about the learning. You can print these off and complete them at the end of the unit and then address any issues that there might be. Also good for
PSHEE and for thinking about how they feel/others feel in social issues. There are loads of different examples on google images and you can also buy a book of them.
Initial thoughts and reflections – I often now get pupils to ask their own questions at the beginning of the lesson and aim to answer them by the end. This allows for different stimulus and for ownership of their own progression. It also allows for any questions not answered to be answered for homework which means that if I don't cover what pupils want to know they don't miss out. I think pupils like this ownership and I feel I am doing their learning justice. They also love to be able to answer their own points or quest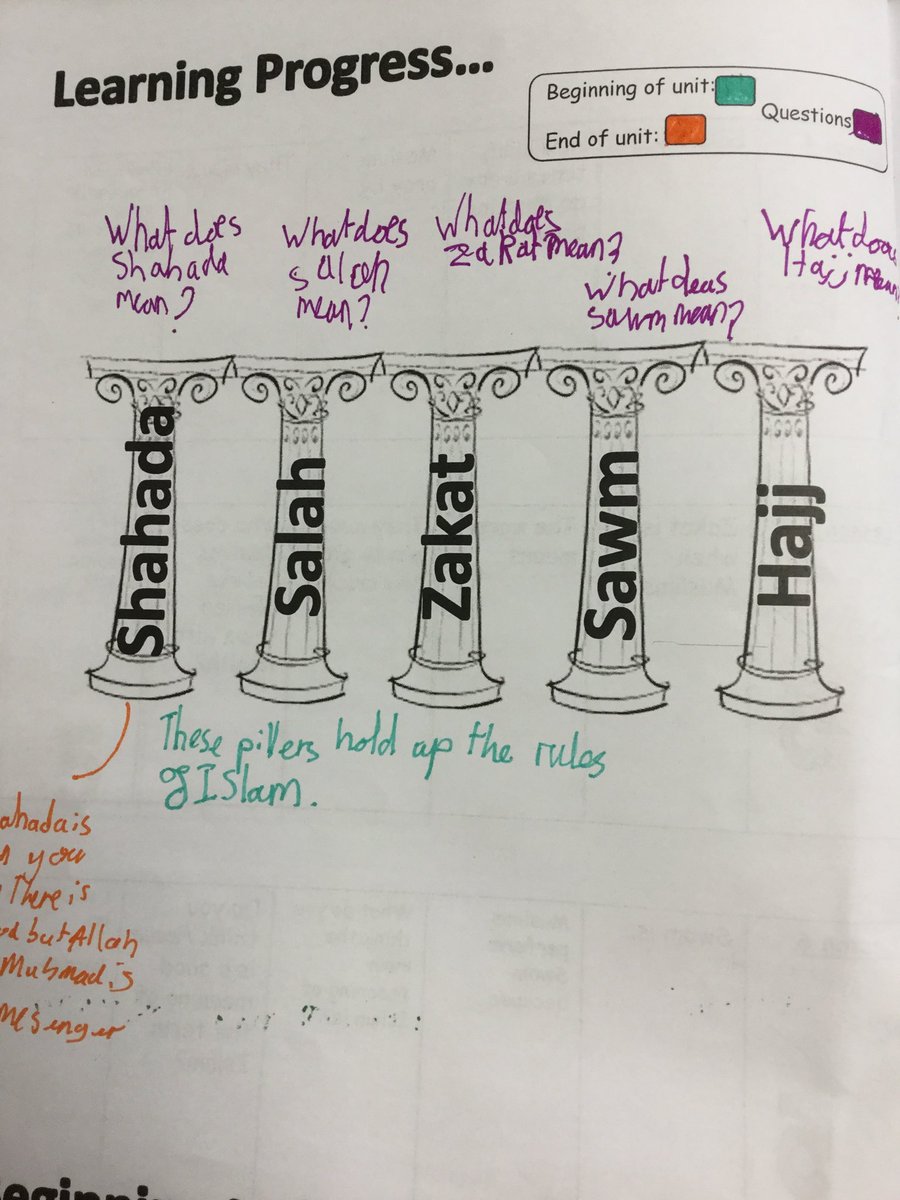 ions!
Green pen of progress- After marking pupils look at comments and go back and add to their work. This is quite common now and many schools seem to do this.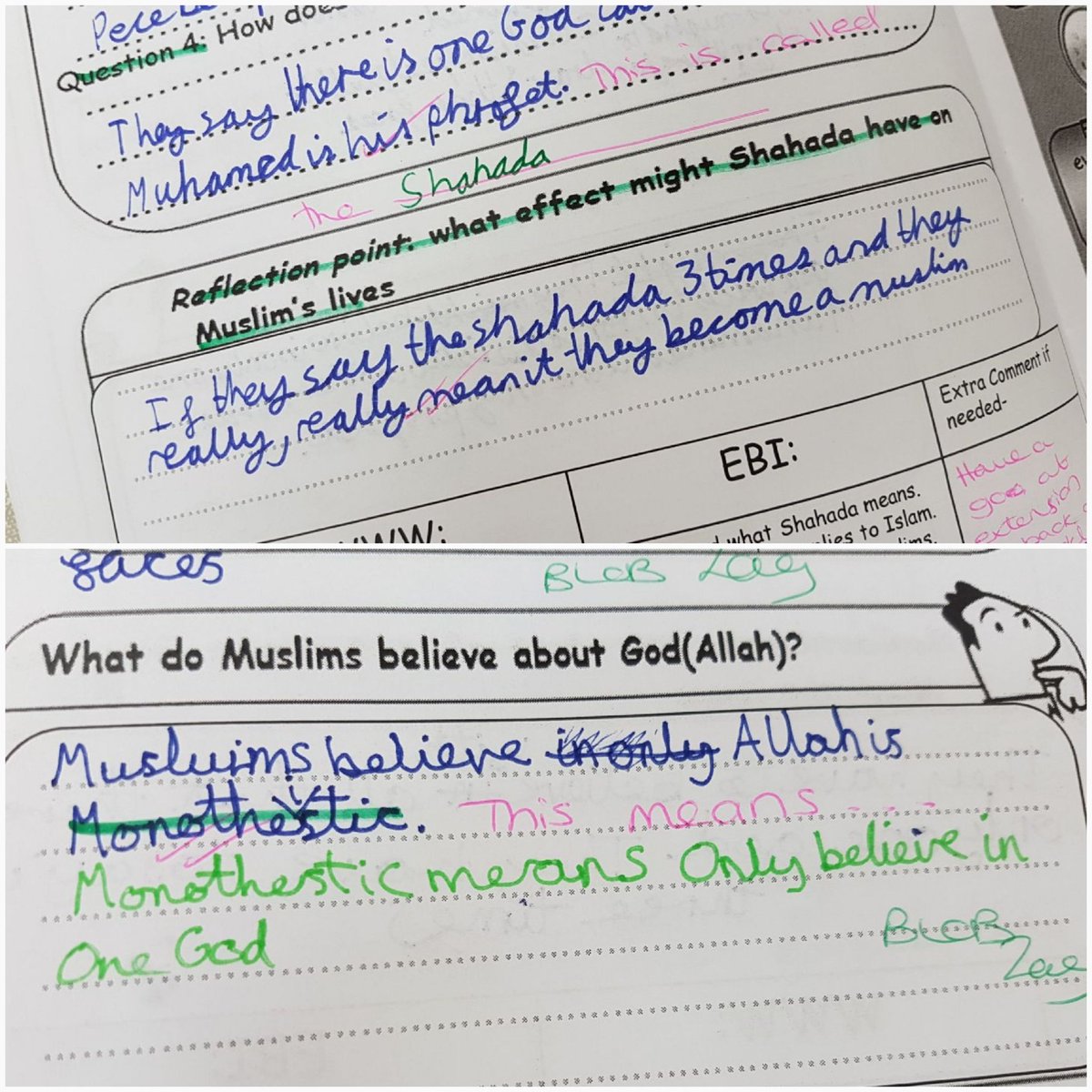 These are a few things you can try and see what works! Learning is all about trial, error and working out what is best for you and your pupils!